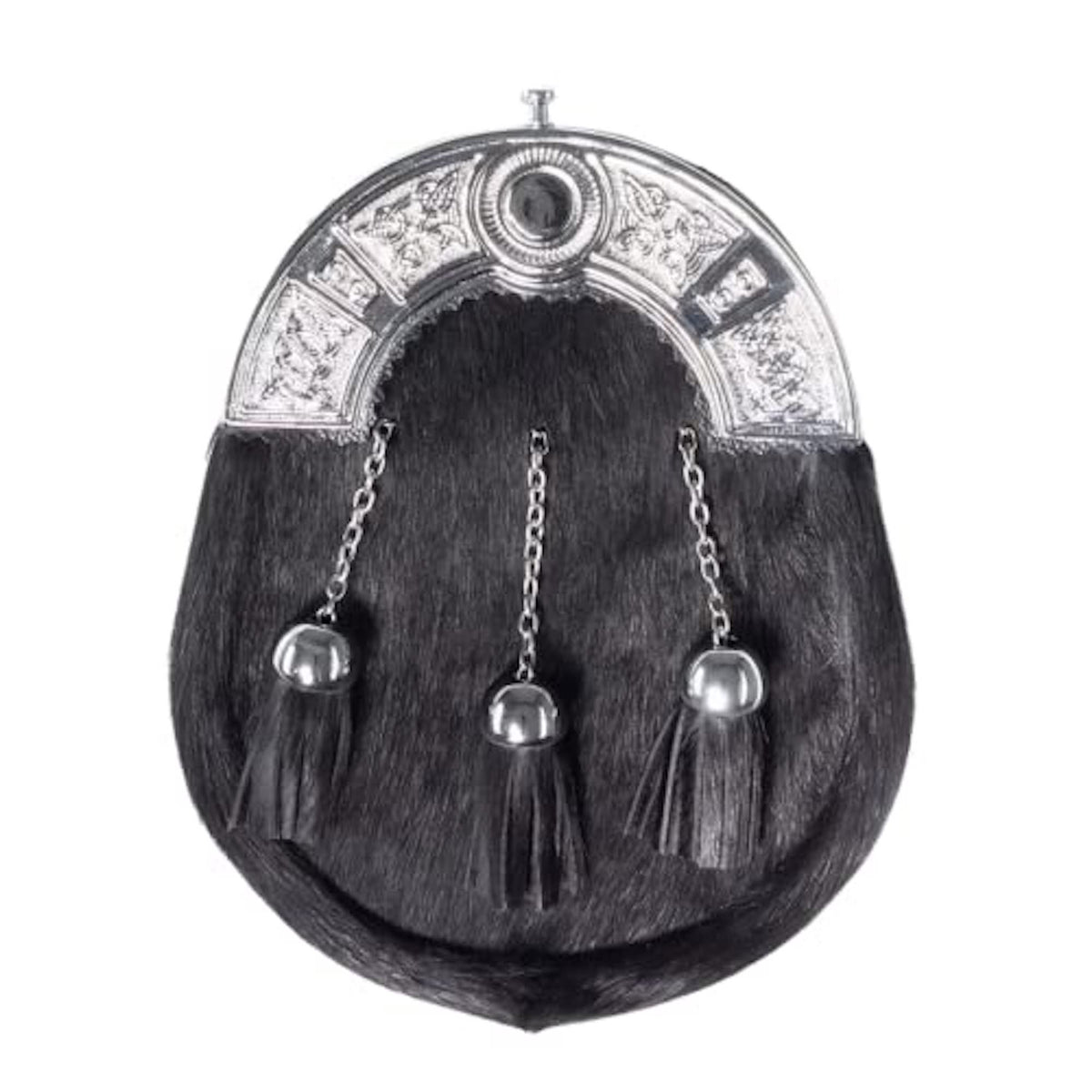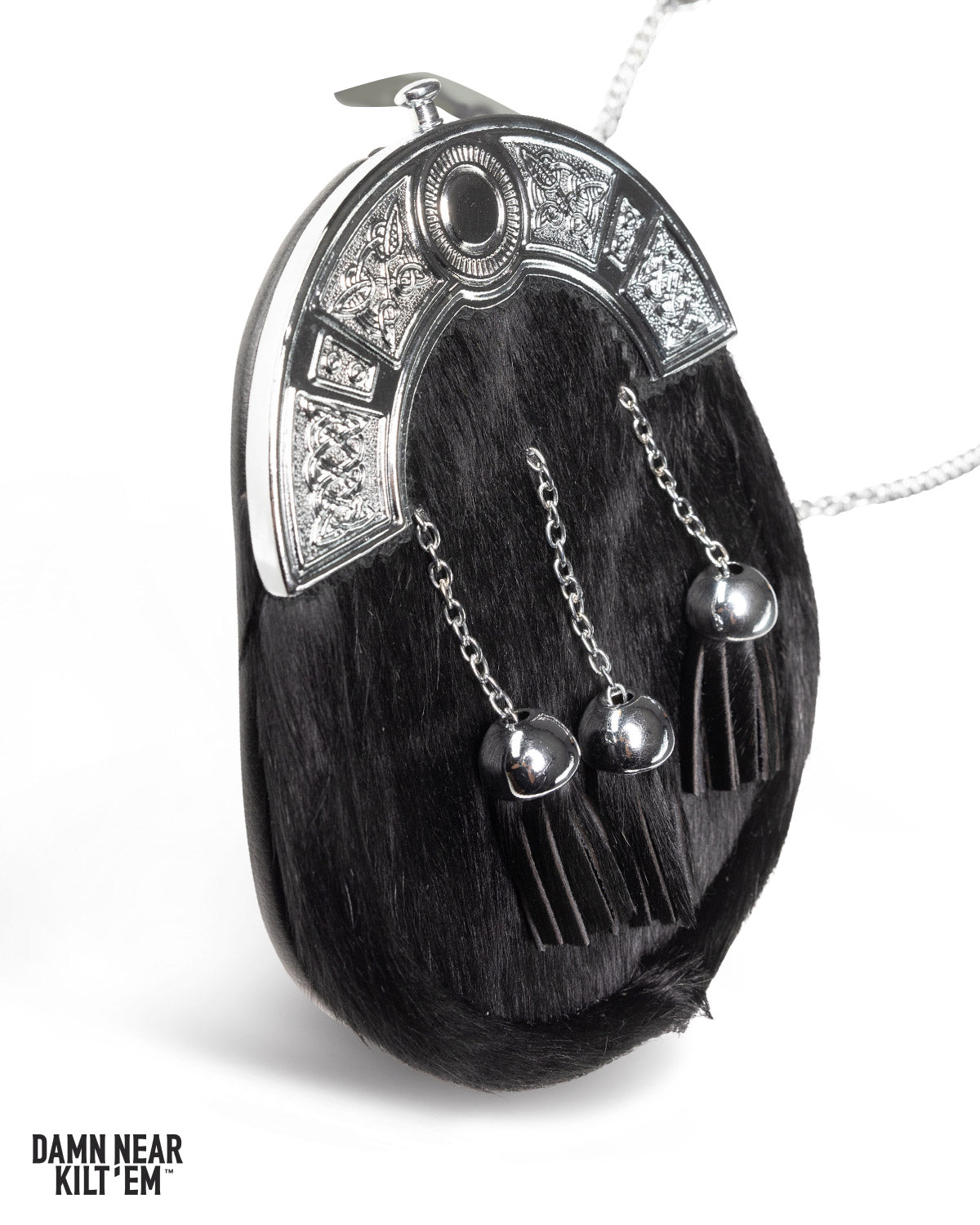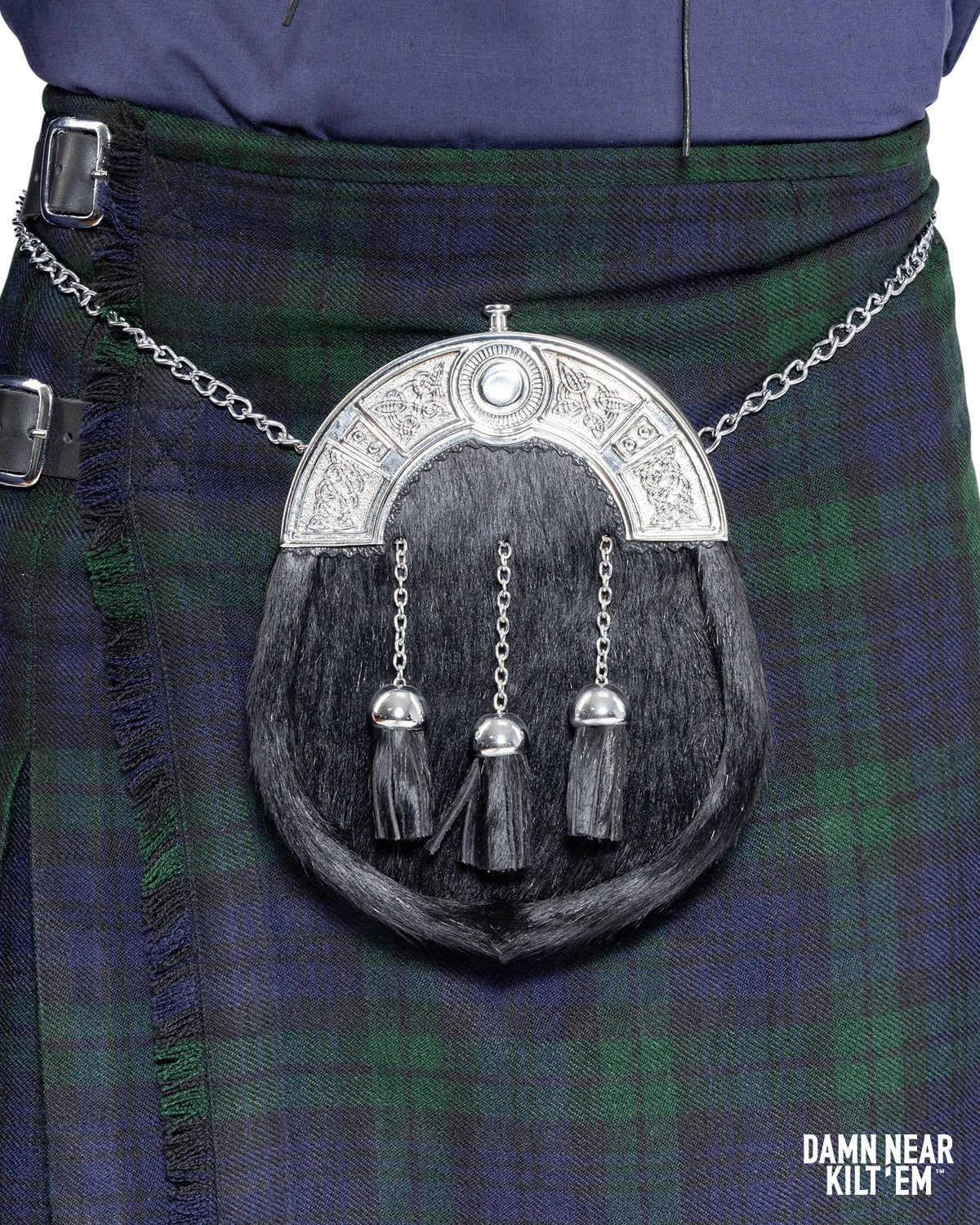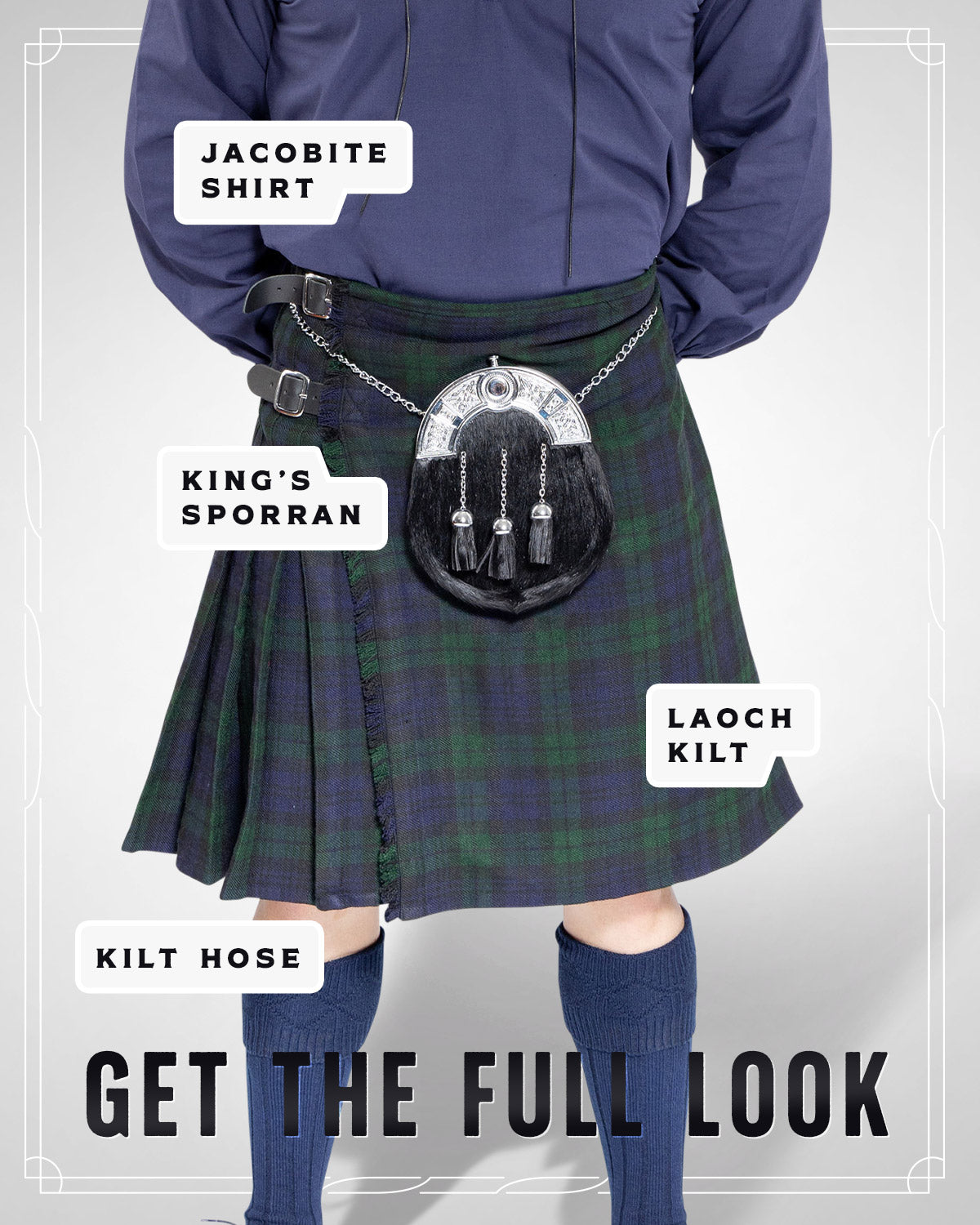 Scroll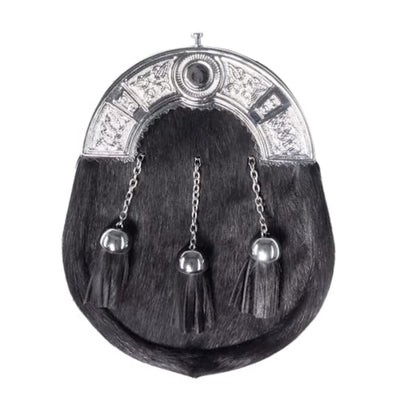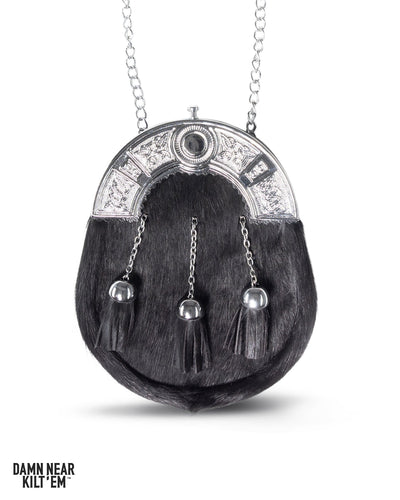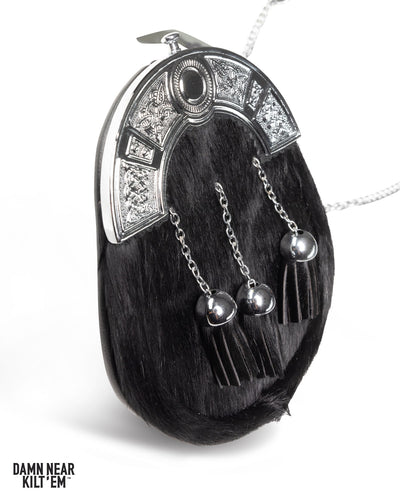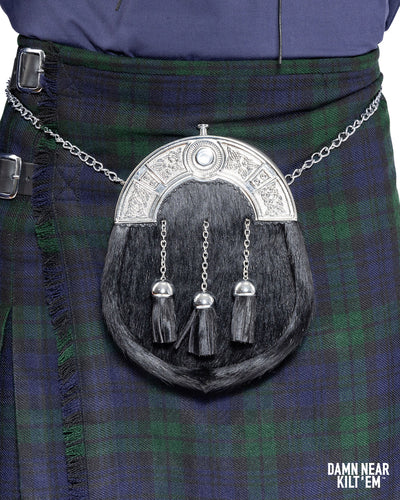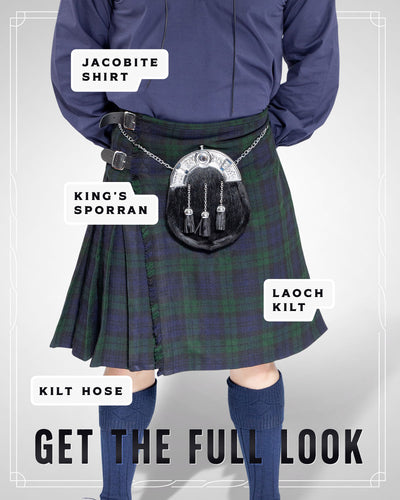 Scottish Formal Sporran
The King's Sporran
Damn Near Kilt 'Em proudly produces high-quality kilts and kilt accessories that inspire confidence and honor traditional Scottish culture. We offer a variety of sporrans and pouches for tactical use, daily wear and special events. The King's Sporran, named for King George IV, is designed to store your essentials and should be worn with a dress kilt for black tie events and formal occasions. Our satchels are crafted with 100% genuine leather and black fur and are adorned with an engraved metal cantle and three metal-capped tassels. Each sporran comes with a durable, adjustable chain belt that fits up to a 48-inch waist. The pouch measures 8 x 7", providing plenty of room to hold your phone, credit cards and cash...or just a flask. No matter where you're headed, Damn Near Kilt 'Em has the kilts and accessories you need to put together a handsome and authentic highland outfit.
Product Details
TRADITIONAL KILT SPORRAN
This formal waist bag was inspired by King George IV and his affinity for Scottish culture and clothing. Pay tribute to your highland heritage with a sporran that conveniently stores your essentials.
EXPERTLY CRAFTED
Our belt pouch is thoughtfully crafted with a genuine leather flap and striking fur pouch. The satchel is adorned with an ornate metal cantle and three metal-capped tassels for an unmistakably dapper look.
BUILT TO LAST
The snap closure and adjustable chain belt are constructed with durable hardware. Whether on the battlefield or in the ballroom, your sporran will stand up to anything.
STYLING YOUR SATCHEL
This kilt bag is perfect for black tie events, special occasions, Irish and Scottish festivals, renaissance and medieval fairs, costume parties and much more.
Sporran Size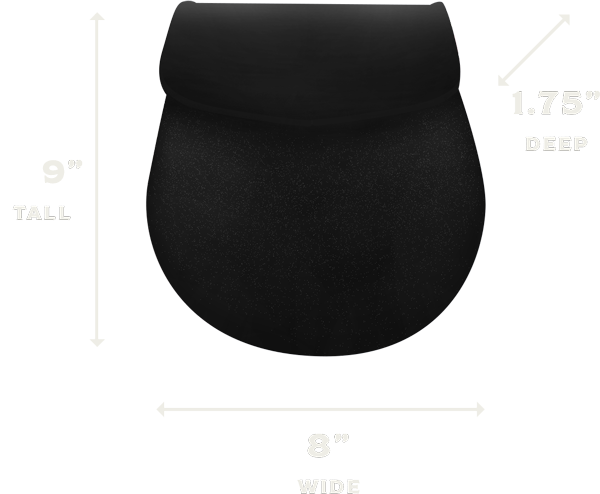 | | |
| --- | --- |
| Depth | 1.75" |
| Height | 9" |
| Width | 8" |